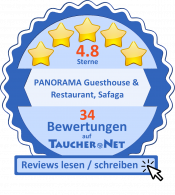 Personal Report:
Holidays with Friends

Andrea & Norbert (October 2016)

Which briefly describes our stay in Panorama Guesthouse with Myriam Benzing and Emad. Unfortunately the time was much too fast. From the first to the last minute we felt comfortable and happy.

For all who do not know it yet:
The Panorama Guesthouse; an insider tip for people who want to escape from the hustle and bustle of hotels and want to experience a comfortable authentic holiday without no compromisses.

The rooms are local style but with a lot of attention to detail. The daily breakfast in the room is a dream. Who can eat breakfast on the balcony in October and still see the sea?

The dives were an experience thanks to Myri, the great diving base (Paradise Divers) and the super nice crew. Every dive was a dream that went by far too fast thanks to the great diversity of fish, the individual planning and the view (Norbert still has glassy eyes)! On the bottom everything was very well organized, there was enough space for everyone and the "WELL BEING POSITION chairs" are recommended. After the dive you can relax and unwind. Of course you should not miss the daily lunch on the boat. Super delicious and absolutely inexpensive.

Back in the base quickly a deco beer and then every evening  was rounded  off with excellent food in the Panorama Restaurant.
Whether Arabic cuisine, tasty meat dishes or simply pizza. No matter what we had it was fantastic and I would recommend it to anyone who is in Safaga.

Unfortunately there are not many tourists in the country but I hope that this will change soon. For me it is still a dreamland with very friendly people

Culture was also a must for us. We had a very exciting and especially personal trip to Luxor. Of course with the support and organization of Myriam and Emad.

With these perfect conditions we spent wonderful 11 ​​days with many nice people, and are with heavy hearts but a lot of great memories and impressions home.

At the same place again a very big thanks to "my" Myriam and Emad, stay as you are and we look forward to a reunion next year.

Andrea & Norbert
Rating including video are published with permission of Andrea and Norbert.